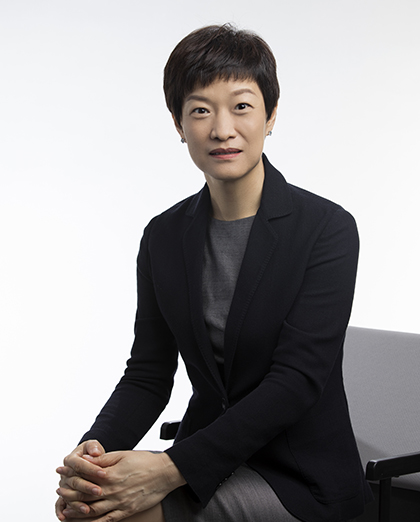 DEAR SHAREHOLDERS,
The advanced display, Internet and "AI x IoT" technology have shown great progress, which promoted the trend of home electronics intelligentisation. Meanwhile, great opportunity for value-added family Internet service has appeared with the increasing proportion of smart interactive products. In addition, the PRC's industrial chain of display panel and full set has grown, which established a solid foundation for the development of the consumer electronics industry in the PRC. TCL Electronics focuses on the smart display industry, by adhering to the core concept of leading technology and product innovation, and continuously launching cutting-edge intelligent products and services, its market shares continuously increased in the past three years, with its business growth outperformed the industry.
In 2019, by committing to R&D innovation, as well as promotion of globalisation and "AI x IoT" strategy, we improved product competitiveness and brand power, along with stable increase of operation efficiency. Annual TV sales volume of TCL Electronics reached 32.00 million sets, up by 11.9% year-on-year, remained at top 2 in the global TV market in terms of TV shipment. Among which the sales volume of TCL brand TV reached 20.64 million sets, with global market share reached 9.2%. Annual turnover increased to HK$46.99 billion with a year-on-year increase of 3.1%, with an expense ratio of 13.8%. With significantly enhanced profitability, profit attributable to owners of the parent increased by 118.9% year-on-year to HK$2.28 billion. Profit attributable to owners of the parent after deducting one-time non- operating gain was HK$1.07 billion with an increase of 35.0% over the same period of last year. Basic earnings per share was HK100.06 cents. The Board proposed a final dividend of HK10.60 cents per share for the year ended 31 December 2019, with full year dividend totaling HK21.16 cents per share, representing a dividend payout ratio of 45% based on profit attributable to owners of the parent after deducting one-time non-operating gain.
Since its reform and transformation in 2016, the Group has achieved growth in sales volume, revenue and profit over the years. In 2019, TCL Electronics took a huge step towards its transformation to a smart technology company, and achieved steady and high-quality business growth, which was mainly driven by its leading position in overseas markets, the continuous growth of intelligent Internet application business and its improved product competitiveness and brand power.
By exploring the overseas markets for 20 years and taking the lead in global strategic layout, our competitiveness advantages in overseas have become more apparent. In 2019, sales volume of TCL Electronics in several foreign regions maintained a strong growth, with 13.46 million TCL brand TVs sets sold in overseas markets, up by 26.1% year-on-year. Among them, the leading position in the North American markets was consolidated, the European markets expansion forged ahead with a steady pace, a strong growth momentum was perfectly kept in emerging markets, and new markets with great potential have been successfully explored, such as the restart in Indian market, in which its ranking in terms of sales volume rapidly increased to top 5, and sales volume in Argentina surged by 121% year-on-year. Meanwhile, the Company continues deepening its global production capacity layout. Apart from the PRC, we have also established factories in Mexico, Vietnam, Poland, India and South America. The overseas production capacity layout reached 15 million sets per year, which is sufficient to meet its shipment demand in overseas markets. In 2019, turnover of TCL brand TV in overseas markets amounted to HK$21.00 billion, increased by 14.1% year-on-year, with the operating result significantly increased by 42.3% year-on-year to HK$880 million.
While continuously expanding the TV sales, we vigorously developed family Internet entertainment business globally, which brought new revenue stream and profit growth to the Group. In 2019, net profit margin of Falcon Network Technology Group increased by 11.7 percentage points year-on-year to 32.0%, demonstrating its enhanced profitability. Furthermore, we deepened cooperation with Roku, Google and Netflix in terms of Internet business in overseas markets, thereby further exploring overseas Internet business. In 2019, the Group's global Internet business revenue doubled and reached HK$756 million year-on-year, including a sustainable revenue of HK$210 million from overseas Internet business for the first time. As a result, the Group has become the first Chinese enterprise in the industry to have relatively large-scale and sustainable overseas Internet business revenue.
Since market competition changes rapidly, our core competitiveness rests on technological innovation, and being a front- runner in scientific reform will be the driving force for corporate development. In 2019, we increased R&D input in cutting- edge technologies such as QD, Mini LED, and 8K, and launched various mid-to-high end products. The Group's innovative R&D capability was highly recognised in the global industry with 8K Mini LED X10 TV receiving "Home Theater Gold Award" by 2019 IFA and IDG and TCL X9 8K QLED TV receiving "8K QLED TV Gold Award 2019-2020" by IDG. Also, TCL Electronics was elected as one of the constituent stocks of Hang Seng Corporate Sustainability Index in 2019, and its promising growth potential was highly recognised by the capital market.
In 2019, we took the lead in "AI x IoT" strategic layout and were dedicated to realising the interconnection of hardware, software and IoT in various scenarios. The Group took the lead in establishing an open AI technological framework in the TV industry. The new generation smart engine has been adopted in smart products, which has expanded user experience from TV, film, music, and encyclopedia to daily services, adding more diversified functions. The Group expanded the application of AI technology by integrating the ecology of Google and Amazon and became the first Chinese company to use far-field voice technology on overseas Android TV platform. Meanwhile, with smart home as its core, TCL Electronics has developed cloud platform which enabled control over smart devices of different categories. In addition, we greatly broadened the scope of the ecosystem via connection with the cloud platform and have expanded connection with products of different brands.
The Group is committed to becoming a global leading intelligent technology enterprise in the smart display industry, achieving No. 1 sales volume of smart TV brand in the world, and the proportion of profit from value-added Internet services exceeding 50%. The Group will forge ahead to deepen its transformation in 2020. Adhering to the strategic orientation of "Reform and Make Breakthroughs, Prioritise Quality and Efficiency for Global Leadership", the Group will:
Continuously leverage on its advantages in the synergy of the vertically integrated industrial chain and increase R&D input to continuously develop industry-leading high-end display technologies such as QD, Mini LED and 8K and improve core competitiveness in AI, big data, 5G and intelligent manufacturing.
Consolidate and enhance business competitiveness in the PRC market, actively promote digital transformation, create a user-oriented, retail-driven and Internet-enabled marketing platform, and build the top 2 digital marketing capability in home electronics industry, so as to achieve fully digital upgrade in channels, services and marketing, as well as develop an intelligent management system with extreme efficiency integrated by research, production and marketing.
Promote global operation strategy in a firm and fast manner to increase TCL Electronics' global market share and brand power. Utilise its first-mover advantage in globalisation to step up competitiveness in North America, Europe and Southeast Asia, and accelerate exploration of emerging markets such as Russia and India. In addition, simultaneously improve the global supply chain layout to form a global industrial system with greater flexibility and reasonable geographic distribution.
• Accelerate the development of global Internet business, while vigorously improving the operating capability and profitability of Falcon Network Technology, further deepen its strategic cooperation with overseas Internet business partners and enhance the integration of domestic and overseas content resources, so as to continuously improve the operating capability and profitability of its global Internet business. In addition, vigorously propel the

"AI x IoT"

strategy, by effectively combining user needs, functions of IoT devices and AI capability, and using smart display as its core, build a full scene of intelligent life with

"AI x IoT"

, in order to drive global development of the whole category business.
Continuously increase input in smart display business by focusing on mainstream scenarios such as telecommuting, intelligent conference, education, business, scheduling, medical care and traffic, integrating TCL's industrial advantage and external ecological resources, forming the "1+1+N" (hardware platform + software platform + segmentation application) business model, and completing the "user-centered" agile development and delivery system, so as to build a commercial display integrated solution platform and become a commercial display platform enterprise with around 10-billion RMB revenue.
In the 5G era that we have entered, Internet technologies are developing rapidly while the global economic landscape is undergoing restructuring, and the development of COVID-19 epidemic in overseas brings uncertainty, TV industry witnesses both opportunities and challenges. TCL Electronics will focus on the strategic theme of "leading technology, highly efficiency, marketing breakthrough, global leadership", via its leading position in global industry layout and the advantages in the synergy of the vertically integrated industrial chain, deepen implementation of the development strategy for intelligentisation and globalisation, continuously increase input in R&D and product innovation, actively promote the digital transformation, expand revenue from value-added Internet services and maintain sales growth throughout the year. We have confidence and determination to continue to march towards global leading position, to provide global users with smart display related products and services, and to deliver long-term growth and returns to Shareholders.
On behalf of the Board, I would like to express my sincere gratitude for the continuing support and trust from all our Shareholders and investors as well as the dedication and contribution of the Group's Directors, management team and staff over the years!
LI Dongsheng
Chairman
28 March 2020